100% VIRGIN WOOL SLIPPERS
Maximize your at home comfort in cozy wool slippers. Crafted from soft virgin wool you'll never want to take these off. A vast array of styles means you'll have no trouble finding the pair that are just right for you. With slip ons, arch support designs, and outdoor wool slippers we have a pair for the whole family. You'll adore the comfort of our women's wool slippers and men's wool slippers. Is it the fit or the natural material of our slippers that makes them so comfortable? We combine both of these things to bring you wool slippers with unparalleled comfort. Starting life as a way to reduce scrap material, our wool house shoes are now one of our best-selling products! Our goal is to always guarantee the highest quality by processing purely natural materials. This makes your wool slippers so warm and comfortable, you'll be leaping out of bed in the morning to put them on!
HIGH QUALITY FELTED WOOL SLIPPERS
Thanks to virgin wool thread, our felt wool slippers are flexible and durable. We use a dual twisting (2 ply) method that causes the wool to become matted, creating the unique Giesswein felt that feet crave! These extra steps help us bring you the highest quality wool house shoes.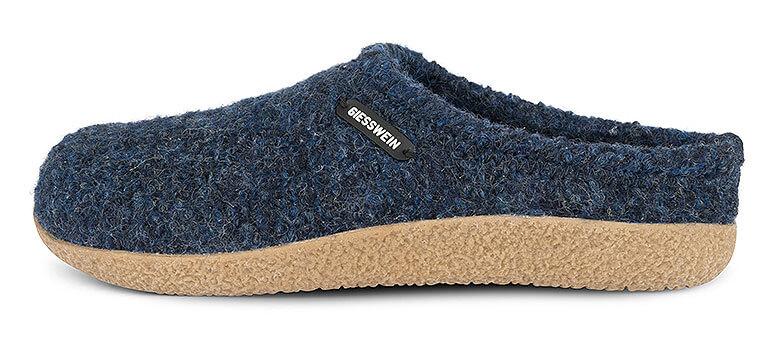 ULTIMATE STABILITY IN WOOL SLIPPERS
Enjoy a sturdy and firm experience with natural rubber soles. The deep profile and custom-fit workmanship guarantee the perfect grip and secure support. The sole will allow you to use these as outdoor slipper, taking in all your yard space has to offer. Despite being robust, our wool slippers are also flexible. From lounging at home, to keeping comfortable at the office, and taking short walks down to the mailbox, wool slippers take every step with you.
FIND YOUR PERFECT SLIPPER FIT
The Giesswein ultra comfort concept: anatomically shaped insole with 1 cm heel pitch. For those in need of a little extra support, transform your pair into arch support slippers with just an insole. Also crafted from wool, our insoles help temperature regulation. Ideal for both summer slippers, and as warm slippers for winter. To wash your slippers or insoles, put them in the washing machine at 30°
4 ESSENTIAL FEATURES OF WOOL SLIPPERS
Once your feet slide into Giesswein slippers for the first time, you'll never want to take them off. Our customers have shared some of the key factors to consider when choosing your next pair: Warmth: Keeping feet warm has many benefits, from maintaining overall body temperature to promoting better sleep. Cozy slippers are perfect for protecting feet from the cold and damp. Water Resistant Slippers: Waterproof and water resistance have subtle differences. Make sure you pick the right one for your tasks. Waterproof slippers will be made from materials like rubber, whilst water resistant materials are wool and leather. Foot Support: For those standing multiple hours a day, choosing a comfy slipper is vital. Opt for slippers that provide you with adequate arch support, and even consider memory foam insoles. These will contour to the shape of your feet for maximum support. Versatility: What tasks do you use your house shoes for? Wool slippers will be ideal for walks in your yard, b
RELATED GIESSWEIN PRODUCTS